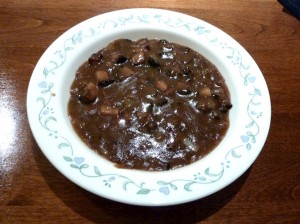 I had been trying to find a good gravy recipe for quite a while. There are so many dishes that have gravy in them and I wasn't able to make them. So I experimented a little and came up with a gravy that tastes great and has the right consistency. I hope you enjoy it too.
Gluten Free Mushroom Gravy
Ingredients
2 portobello mushrooms
1 small onion
1/2 tsp cumin
1/2 tsp garlic powder
2 cups water
1 tbsp corn starch
2 tbsp oil
Preparation
Add oil to fry pan.
Dice onion and portobello mushrooms. Add to pan.
Add cumin and garlic powder.
Fry on medium heat for about 10 minutes or until onions are soft and mushrooms are darker.
Add 1 1/2 cups of water to fry pan.
Cook on medium heat for about 10 minutes.
Heat last 1/2 cup of water (hot out of tap is good) and mix corn starch in thoroughly.
Add water/corn starch mixture to fry pan.
Cook on medium-high heat for about 5 minutes or until gravy thickens.