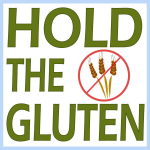 This afternoon, I came across a gluten free podcast and I thoroughly enjoyed it. The podcast is all about the gluten free lifestyle.
In their words:
This is a gluten free zone… You'll find nary a wheat, barley, oat, or evil stalk of rye lurking here. Join us as we podcast about our lives – gluten free.
It is a lighthearted podcast that features Maureen and Vanessa talking (or ranting) about gluten free issues, food and news.
The episode I listened to talked about the episode of the television show Man Up! that featured a gluten free diet, Pastariso Gluten Free Macaroni and Cheese Cups and Helping Hands Gluten-Free Bakery. I watched the episode of Man Up after listening to their podcast and I completely agree with the issues they had with it. I completely agree with their thoughts on the Pastariso Macaroni and Cheese as well.
I highly recommend checking out the podcast. I think you'll be extremely entertained.
You can find the podcast on their website – Hold The Gluten or on iTunes.