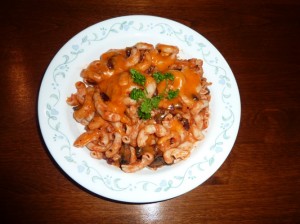 While I was growing up, the dish was served on a regular basis at my house. I tried making it with several hamburger replacements, with little success until I developed the Mushroom Burger recipe I posted a little while back.
Vegetarian Beef Macaroni Casserole
Ingredients
2 cups mushroom burger
2 cups gluten free elbow macaroni
1 small onion
1 cup cheddar cheese
Preparation
Boil pasta and add to casserole dish.
Prepare mushroom burger.
Add mushroom burger to casserole dish.
Dice onion and add to dish.
Add cream of tomato soup to casserole dish.
Grate 2/3 of cheese into casserole dish.
Mix well.
Grate remaining 1/3 cup cheese on top of mixture.
Bake at 375F for 12 minutes.