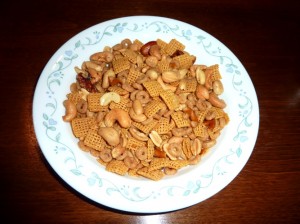 This is a recipe that my father has made for years around the holidays. We decided to rework the recipe to remove any items that had gluten. Now we have a tasty snack that any of us can enjoy.
One thing I should point out about this recipe is that it makes a ton of nuts and bolts. You will need a large container to cook it in and lots of containers to store it.
The original recipe called for Shreddies and Cherrios, which we replaced with Corn Chex and Nature Path Whole O's. If these particular cereals are not available, you can replace with other cereals.
Gluten Free Nuts and Bolts
Prep Time:
Cook Time:
Total Time:
Servings:

Many
Ingredients
1 box Corn Chex (391 grams)
1 box Nature Path Whole O's (325 gram)
1 box Glutino Gluten free Pretzel Twists (227 gram)
12 ounces mixed nuts
12 ounces cashews
12 ounces peanuts
2 1/2 cups oil
1 tablespoon celery salt
2 teaspoon onion salt
1 tablespoon garlic powder
1/2 tablespoon garlic salt
Preparation
Place dry ingredients into a large over safe container.
Pour oil over dry ingredients.
Sprinkle celery salt, onion salt, garlic powder and garlic salt over other ingredients.
Stir well.
Cook at 200°F for 2 hours. Stir every 1/2 hour.