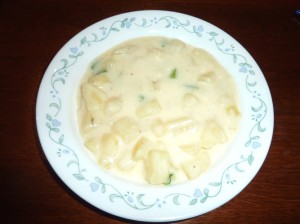 I seem to be putting a lot of creamy soups up lately. Well, I certainly enjoy eating them. I guess that explains why there are so many. I put some green pepper in with this soup to give it a touch more flavor and a bit of color.
Creamy Potato Soup
Prep Time:
Cook Time:
Total Time:
Servings:

4
Ingredients
6 medium sized potatoes
4 teaspoons oil
2 teaspoons cornstarch
1 1/2 cups milk
1/2 small green pepper
1/8 teaspoon garlic powder
1/8 teaspoon salt
Preparation
Peel and dice potatoes in to small pieces.
Boil potatoes until soft. (approximately 30 minutes)
In a large fry pan, heat oil to medium heat.
Add corn starch. Stir until corn starch has dissolved.
Cool oil and corn starch to very low temperature.
Add milk. Heat to medium temperature.
Add a cup of the water the potatoes were boiled in.
Add potatoes. Stir well.
Dice and add green pepper.
Add garlic and salt.
Cook on medium heat for 15 minutes.