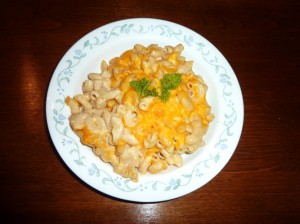 I've tried a few times to make homemade macaroni and cheese from a few recipes, but most of my attempts seemed to be missing something. This time I decided to make a cheese sauce separately and then bake it with the pasta. It may take a little longer to prepare, but I like that I can control the taste of the sauce and increase the amount of cheese if I want to. Also, soups and sauces are my favorite things to make.
Macaroni and Cheese
Prep Time:
Cook Time:
Total Time:
Servings:

4
Ingredients
16 ounces gluten free pasta
6 tablespoons oil
3 tablespoons corn starch
1 1/2 cups milk
1/2 cup Parmesan cheese
3 cups cheddar cheese
1/8 teaspoon salt
1/4 teaspoon ground mustard
dash nutmeg
Preparation
Cook pasta in boiling water until it is firm but not hard (al dente).
In a fry pan, heat oil to medium heat.
Add corn starch. Stir or whisk corn starch and oil until corn starch is completely dissolved.
Turn heat down to low. Allow mixture to cool. (If mixture is not cool enough, milk will gel.)
Add milk and Parmesan cheese.
Increase heat, stirring frequently.
Once milk and Parmesan cheese are mixed in, the sauce should thicken.
Add 1 1/2 cups of the cheddar cheese.
Stir until cheddar cheese is melted and mixed in.
Add salt, mustard and nutmeg. Stir well.
Add sauce to pasta (or pasta to sauce if your fry pan is larger).
Place in a casserole dish. Top with remaining cheddar cheese.
Cook at 375°F for 10 minutes.