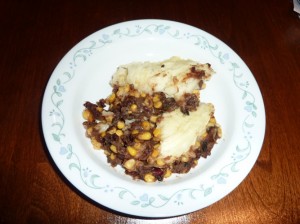 My apologies about the light posting this week, it's been a little hectic around here. I am back to creating recipes, though. This time it a dish that while not the most attractive, does taste great. Making vegetarian shepherd's pie takes two recipes I have posted earlier.
Vegetarian Shepherd's Pie
Prep Time:
Cook Time:
Total Time:
Servings:

4
Ingredients
Preparation
In a bowl, mix mushroom burger and mushroom gravy.
In a 1 1/2 or 2 quart casserole dish, spread the burger and gravy mix evenly in the bottom of the dish.
Spread the corn evenly over the burger and gravy mix.
Spread the potatoes over the corn.
Cook uncovered in the oven at 350°F for 30 minutes or until heated completely through.