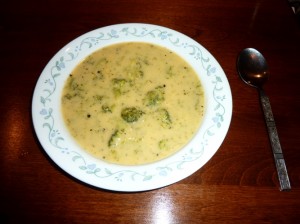 I had been having a craving for broccoli soup since yesterday. Unfortunately, I had never made broccoli soup and I was out of milk. When I got the milk today, I set about creating a broccoli soup recipe. I decided to make a white sauce and add grated cheese,cooked broccoli and a few other things to it. It turned out rather well.
Cream of Broccoli & Cheese Soup
Prep Time:
Cook Time:
Total Time:
Servings:

4
Ingredients
4 tablespoons oil
2 tablespoons corn starch
2 cups milk
1/2 cups cheddar cheese
1 1/2 cups broccoli
2 cups water
salt to taste
bay leaf
Preparation
Add water and broccoli to pot.
Cook broccoli on medium high for 10-15 minutes.
Heat fry pan to medium high.
Add oil and corn starch to pan.
Whisk until corn starch is dissolved.
Set heat to Low or simmer.
Once pan has cooled to low temperature, add milk and cheese.
Set heat to medium.
Cook until cheese has melted and dissolved.
Add broccoli and the water it cooked in to fry pan.
Stir and cook on medium for 5-10 minutes.