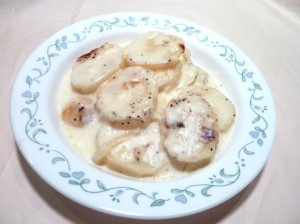 My mom came up with this recipe for gluten free scalloped potatoes. It's something I can't make for my self too often, cause I seriously love scalloped potatoes. The quantities in this recipe are based on the 48 oz casserole dish I use to make them. If you have a larger dish, increase the potatoes, onion and milk accordingly. Hope you enjoy them!
Gluten Free Scalloped Potatoes Recipe
Prep Time:
Cook Time:
Total Time:
Number of servings:

5
Ingredients
4-5 medium sized Potatoes
1 small Onion
2 1/2 cups Milk
2 tbsp Corn Starch
2 tbsp butter or margarine
salt
pepper
Preparation
Peel and slice potatoes.
Dice onion.
Place a layer of potato slices in the bottom of the dish.
Place a small layer of onions over potatoes.
Spread 1 tbsp of butter over onions and potatoes.
Shake 1 tbsp of corn starch over onions and potatoes.
Place another layer of potatoes, onions, butter and corn starch.
Continue placing layers until you have filled 3/4 of dish.
Pour milk into dish until it completely covers other ingredients.
Cook at 375F for 1 hour or until top is golden brown.
Vegan Substitutions
Unsweetened Soy Milk can be used instead of Milk and margarine can be used instead of butter.